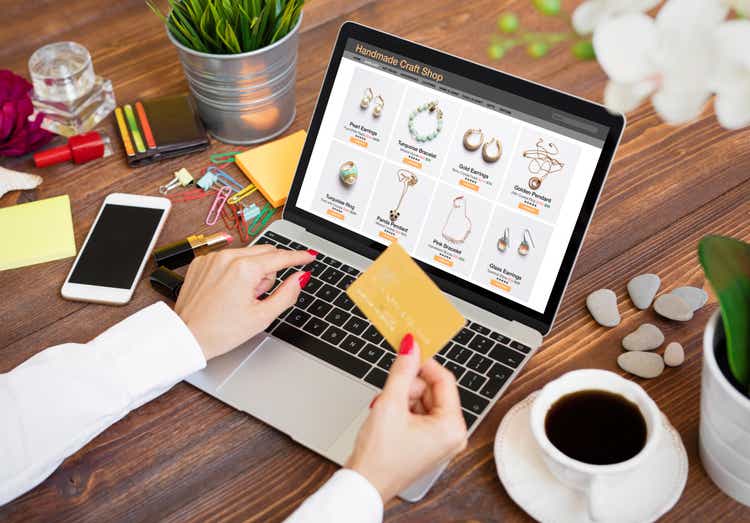 eCommerce stocks: Buying a bottom or buyer beware?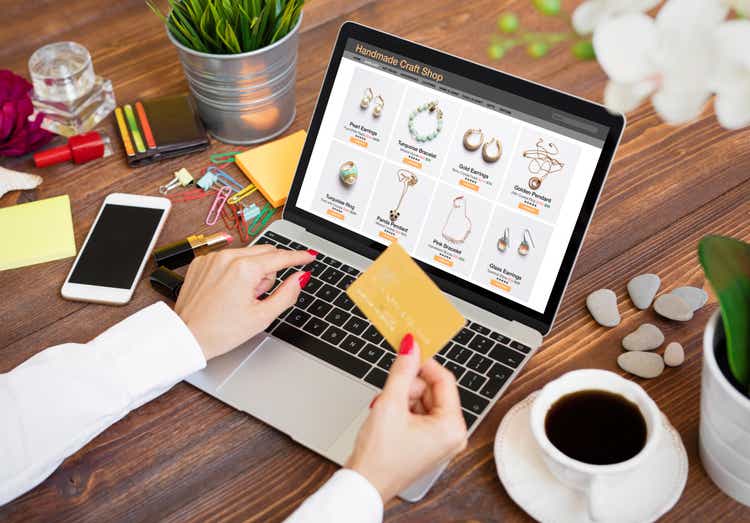 eCommerce stocks have been a painful place for investors to be positioned throughout the first half of 2022.
Headline names like Shopify (NYSE:SHOP), Etsy (NASDAQ:ETSY), Revolve Group (NYSE:RVLV), and Wayfair (NYSE:W) that were adored as pandemic darlings have all declined by 50% or more in the first six months of the year. Smaller online shopping-dependent names like The RealReal (REAL), ThredUp (TDUP), and Rent the Runway (RENT) have not fared much better, with declines extending to over 80% in some cases. Indeed, even Amazon (AMZN) with its sprawling business attending to numerous industries outside of its flagship eCommerce segment was not immune to the drawdowns, marking an over 35% slide at the midpoint of the year.
Of course, amid such stunning drops in some of the market's most popular stocks, there is an enticement to snap up shares amid a potential overreaction. Yet, the question of whether or not the move among many of these stocks is, in fact, an overreaction is the operative question. An operative question that also remains an open one, hotly debated among investors and analysts.
Recession Risks Rein-In Enthusiasm
On the bearish end of outlooks, the spate of downbeat reports in terms of inflation, consumer confidence, and potential recession continue to promote pessimism.
For reference, inflation rose 8.6% in the month of May, marking the highest level of growth in over 40 years and hearkening back to the Volcker era of record interest rates that were leveraged to combat inflation.
Additionally, consumer sentiment fell to its lowest level since the Great Recession in recent month.
"Consumers across income, age, education, geographic region, political affiliation, stockholding and homeownership status all posted large declines [in sentiment]," Surveys of Consumers Director Joanne Hsu said in a commentary on latest results. "Consumers also expressed the highest level of uncertainty over long-run inflation since 1991, continuing a sharp increase that began in 2021."
The survey also revealed 79% of consumers expected bad times for business conditions in the year ahead with 47% of those surveyed attributing the erosion of their living standards to inflation, also in line with Great Recession-level readings. The effect of these dynamics was cited as most impactful on middle-income consumers.
With an expected erosion of living standards driven by higher inflation and continued surges in gas prices, consumers can be expected to tighten their belts even if a deep recession is averted. As such, many analysts are wary to consider even the stark declines in eCommerce stocks thus far in 2022 as indicative of a bottom.
According to the UBS, the probability of a near-term recession has doubled since the spring to 26%. While the level of recession is uncertain, the bank indicated that even a milder 2001-esque scenario points to continued downside for eCommerce stocks.
"Our analysis suggests even in a mild slowdown scenario, sales for eCommerce companies within our coverage could come in about 5-20% below Street consensus in 2023, depending on the company," the bank told clients in a recent Global Research report. "We take the opportunity to reduce our expectations for all the names."
In a note detailing the ratings action, both eBay (EBAY) and Farfetch (FTCH) were downgraded to "Neutral" from "Buy" while price targets were cut across Amazon (AMZN), Etsy (ETSY), The RealReal (REAL), StitchFix (SFIX), ContextLogic Inc (WISH), and MYT Netherlands Parent (MYTE).
For eCommerce names focused on more vulnerable categories, such as home furnishings, the pullbacks are expected to be even more pronounced. Bank of America, Wells Fargo, and Jefferies pointed to Wayfair (W) and Carvana (CVNA) as among the most risky names given bloated expenditures and debt alongside unattractive category exposure. Essentially, the sky-high valuations for the money-losing businesses that were inevitably going to come under scrutiny are only likely to encounter further critical reviews.
Sticky Spending Habits and Significant Savings
However, the pessimism on the prospects for internet retail are by no means unanimous.
Following unprecedented stimulus payments in the wake of the COVID-19 pandemic, personal savings ballooned for US consumers. According to Raymond James estimates, these payments led to over $2T in excess savings to flow to US consumers. Of this staggering figure, the bank estimates that only about 10% of this excess has been utilized by newly-flush consumers.
Additionally, unemployment remains at historically low levels despite growing business uncertainty and cautious statements by tech executives. Indeed, the spike seen amidst COVID layoffs has flipped sharply in the past two years, returning the labor market to an incredibly tight status.
If inflation begins to abate from a peak as more optimistic economists expect, the sentiment trend could soon turn as well. Taken in tandem, these metrics suggest the consumer could be said to remain relatively sturdy in spite of waning confidence.
The potential overrating of economic headwinds dovetails with the underappreciation of the scale of transitions to everyday online retail reliance cited in a recent McKinsey report. According to the consulting firm, eCommerce usage grew to 3.3 times its pre-pandemic average in the wake of COVID-driven restrictions in the US. For European markets like Spain and the UK, the impact was even more elevated.
"People began shopping online in droves at the start of the pandemic, when they didn't have much of a choice," the firm's latest Consumer Pulse report indicated. "But it turns out that many people enjoy the convenience that e-commerce offers. Even when brick-and-mortar stores reopened, spending in online channels continued to climb."
The report reflected 27% year-on-year growth in e-commerce spend, totaling a 33% increase in total penetration since the start of the pandemic. In short, the consumer is still resilient and online spending is sticker than many had anticipated. As such, there may be questions about the extent to which many eCommerce names have sold off.
These lines of argument were precisely those forwarded by Raymond James analyst Rick Patel in a new initiation note authored at the close of June.
"The nine companies we initiate coverage on have an average stock decline of 57% YTD vs -26% for the Nasdaq. This leads us to believe much of the bad news has been priced in already," he explained. "We lean on our survey of ~600 consumers and have created an investment recommendation framework to identify which companies have oversold given the potential for better fundamentals ahead."
Among the names recommended, Etsy (ETSY), Revolve Group (RVLV), TheRealReal (REAL), ThredUp (TDUP), Rent the Runway (RENT), and Brilliant Earth (BRLT) were "Buy" rated. Medical apparel provider Figs Inc. (FIGS) was rated as a "Strong Buy" as it was cited as a stock that has unduly sold off far more than it deserves.
"While there is macro uncertainty, this already points to a dire scenario and we think a significant amount of the bad news has been priced in," Patel concluded. "We believe risk/reward favors upside, especially for the higher-quality names that check the most boxes in our investment framework."
Read more on the similarly unsettled debate over EV stocks.